Well, Kian was finally not something Blue's Clues related for Halloween hehe He decided to be Thomas the Train. The outfit was perfect for him - last year he was in long sleeves and it was in the 80s! This year it was cooler, but at least we had the option of dressing cool or warm.
Halloween morning we started out by having breakfast at our Halloween decorated table that was have enjoyed all month (special thanks to my Aunt Lori for some cool dishes and decor!). Then we headed off the class. We had a Halloween party where we had some great snacks, sang Halloween songs, did some autumn crafts, and trick or treated "door-to-door" from the doors connecting to the room we were in. Kian had a BLAST! He even did great with particiaption!
There was also a little boy who was dressed as James (one of Thomas' friends). Kian and this little boy played together pretty often throughout the class because of the commonality - so cute!
Here are some photos from Kian at class: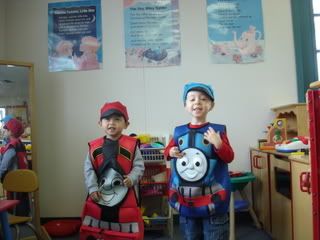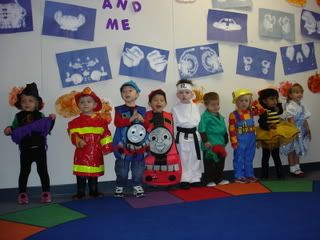 Kian had a blast trick or treating! This was his first year going (we have held off because of his allergy mainly). But this year was the first year he was able to really understand what was going on. He would ring the doorbell and when people would ask "Who are you?" He would say, "Thomas the Tank Engine CHOO CHOO" LOL (btw, that is something he came up with all on his own!) Sometimes he would answer "I'm Kian and then correct himself and go into explaining how he was Thomas." After he said "Thank You" he would say "Let's go find more doors." LOL!
Kian made quite a haul with candy. Unfortunately about 80% of it he could not eat. Needless to say, Jamie will have quite a stash of candy to bring to work tomorrow! Luckily I bought replacement candy for Kian so he does't feel left out. But we did let him enjoy the candy that he did get tonight that was safe for him to eat allergy wise. I'm sure he was in sugar overload mode before bed lol But he was wiped out from all the fun today!
Kian with he Pumpkin that we carved yesterday.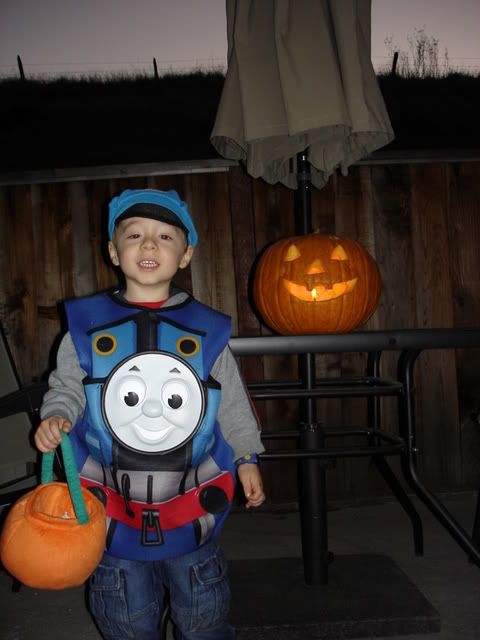 "Let's go find another door!"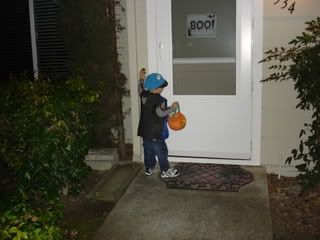 Enjoying some candy after his night's work hehe