Our Extended Weekend
I hope everyone had a great Labor Day weekend!
We had a good weekend spending time together. Jamie was on call and didn't have to go into work (thanks to being able to monitor emails and talk with people at work via his cell). We didn't venture too far from home though, just in case Jamie had to go into work. We did some shopping and made a trip to IKEA (we are really, really needing some new desks and some different organization in our office). It was low key but it was good to finally have Jamie around!!!

Update on Kian's Speech
Last week I got a call from the school that Kian will attend for kindergarten. The have a speech evaluation set up for September 11. I guess it's a pretty lengthly process , but the teacher said that she will do it as long as he will allow. Hearing that made me feel good. I am just hoping to have more information and tools to be able to help Kian speak better. I will post an update when I can on his appointment
next week.

Medical Alert Bracelet
We got Kian's Medical Alert Bracelet that I posted about in a previous entry. Jamie had to put it on him....it's really hard to snap on him. We put it on him on Sunday morning and he's had it on ever since. He was slightly annoyed with it at first but he's really used to it now. I am going to try to take a photo of him with it on - but I am going to wait until next week sometime. We are really trying not to draw attention to it in the hopes that he really gets used to having it on.
Photos
Here are some photos from this summer. I have a lot more in my snapfish account. If you would like to be added to the list to be able to view them just leave a comment in this post and I will gladly add you :)
Kian on our back patio :)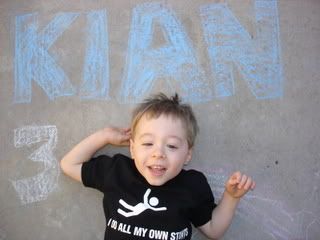 Kian petting an elephant at Discovery Kingdom with Daddy: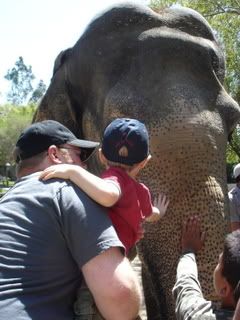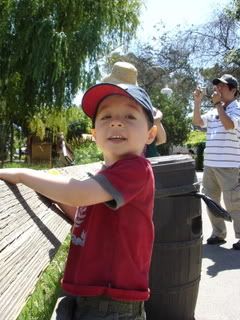 Petting a donkey that was walking around the park: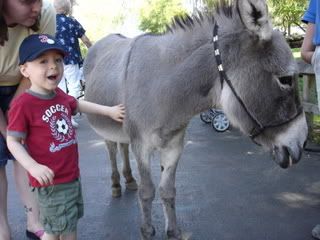 Daddy and Kian on a frog ride!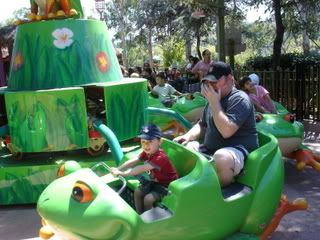 Kian with Thomas the Train in the background - he really was happy in this photo we were just trying to get him to look at the camera instead of Thomas lol: